About Sun City Stomperz
This band was formed in 2005 by Ernie Landes and Sid Gire in an effort to spread the joy of Dixieland Jazz to the folks in and around Sun City, Arizona. The present lineup has been together since 2009, and has been fortunate to appear at community events, retirement homes, local festivals and watering holes throughout the greater Phoenix area. They are well into their third year of regular performances at the Sunset Bistro at the Lakes restaurant in Westbrook Village, Peoria, Arizona. The Stomperz made a conscious decision to concentrate their repertoire on the music of the first three decades of the Twentieth Century. This period includes the very beginnings of the traditional jazz age, the rise and fall of the Storyville District of New Orleans, the first jazz recordings and the resulting global appreciation of this music. Because several of the members grew up listening to the music of Lu Watters' San Francisco style jazz revival in the 1940's, the Stomperz play many of his compositions as well. The music that Joe "King" Oliver produced during the "roaring twenties" formed the backbone of what we know today as Traditional Jazz. He introduced amazing musicians, some of whom, like Louis Armstrong, will live forever. His recordings were wildly successful, spreading the good news far and wide. It is for these reasons that the Stomperz dedicate their album to the memory of Lil Hardin, Louis Armstrong, and Joe "King" Oliver.
Meet The Band
Great sound come from these gentlemen!
Ernie took up the trombone in high school and began jamming with neighborhood musicians. While attending Stanford University, he heard the bands of Bob Scobey and Turk Murphy, and spent many Friday afternoons playing for free beer in college hangouts.  He helped form a band named "South Bay Seven" which was popular in the San Jose area in the sixties.
In 1973 he was recruited by Frank Goulette to join the "Monterey Bay Classic Jass Band" of Santa Cruz, CA.  With this band he attended most of the West Coast jazz festivals and enjoyed an eight-year run of Sunday afternoon gigs at the Dream Inn in Santa Cruz.
Retiring to Washington State in 1995, Ernie joined the "Dukes of Dabob" which played for twelve years at the Valley Tavern near Dabob Bay. 
Starting with piano at age nine. Harry moved on to play violin, banjo, cornet, string bass and soprano sax.  He played banjo in a high school dixieland band, then co-founded the "Red Hot Stompers" at Cornell University.  In Ohio, he performed with the "Docs of Dixieland", which appeared on national television.  Harry spent about 25 years with the "Hermit Traditional Jazz Band", where he shared leadership with Ted Witt, an internationally famous clarinet player.  Harry also appeared with Ralph Grugel's " Eagle Jazz Band".   Moving to Northern California in the 1970s, Harry a joined a San Francisco jazz band, playing banjo and second cornet at jazz festivals mostly around the Western United States.   Here in the Phoenix area, Harry has played with the "Desert City Six" and is now with the "Sun City Stomperz" as First Banjo and Manager.
Barry started playing sax in high school but interrupted his musical life for military service.  He picked it up again in college, playing in several dance bands.  In 1969 Barry got involved in barbershop quartet singing.  He spent many years singing in competitions all over the Midwest and internationally.  In 1983, he was asked to become a Certified International Judge and spent 24 years judging competitions all over the world.  Around 2002 Barry was invited to play clarinet and got hooked on our kind of music.  He has played with some very good bands including the "Blue Ox Jazz Babies", the "Mouldy Figs" and the "Turkey River All Stars" in and around Minnesota.  Barry enjoys playing clarinet, flute, soprano, alto, tenor and baritone saxes .  His outstanding vocal capabilities provide an extra kick to the music of the Stomperz.
Dean started playing  in 1944 at Odessa Jr. High School in Odessa, Texas.   Upon graduation in 1949 Dean enlisted in the US Navy and served as a Sonarman on a destroyer for three and a half years during the Korean Conflict. College and working interfered with music and he did not pick up a horn for about 30 years.  After going to a Christmas Tuba Fest in Denver , Colo. the music bug bit him, and his wife Joann brought home a tuba from the school she was teaching at and he started playing in community bands in the Denver area.  In 1994 he started playing with the Sun City Concert Band and the Desert Brass when it was first formed.  He joined the Sun City Stomperz when it was formed and continues to this day.  There is no greater joy in music than playing Dixieland Jazz.
Videos
Enjoy these selected music videos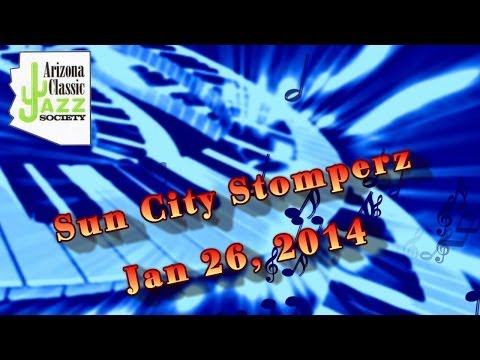 Guest Stars
From time to time we bring in some great talent…These are a recent few!
Contact Us
Use This form for general questions to the band and for booking information request.  If you want to be on our mailing list please scroll up and enter your information there.
Sun City Stomperz, Sun Ciy, Arizona
Booking: For information on availability, bookings and/or CDs,
please contact the Sun City Stomperz Business Manager at 623-214-8443.
Email: info@suncitystomperz.com