Sun City Stomperz
A Dixieland Jazz Band
[themify_button style="large green rect flat" link="http://www.suncitystomperz.com/#Contact" text="#ffffff" ]Book Us[/themify_button]
About Sun City Stomperz
This band was formed in 2005 by Ernie Landes and Sid Gire in an effort to spread the joy of Dixieland Jazz to the folks in and around Sun City, Arizona. The band has been fortunate to appear at many community events, retirement homes, local festivals and watering holes throughout the greater Phoenix area, as well as regular visits to Arizona Classic Jazz Society events. They are well into their ninth year of twice-monthly performances at the "Sunset Bistro at the Lakes" restaurant in Westbrook Village, Peoria, Arizona. The Stomperz made a conscious decision to concentrate their repertoire on the music of the first three decades of the Twentieth Century. This period includes the very beginnings of the traditional jazz age, the rise and fall of the Storyville District of New Orleans, the first jazz recordings and the resulting global appreciation of this music.  The musicians hope to continue to provide this "happy music" for many years to come.
The Band
Clark Chaffee - Drums
With extensive experience as a performer, conductor, and music educator, Clark Chaffee brings a unique blend of perspectives to the band. He is a graduate of Interlochen Arts Academy and has earned music degrees from University of Michigan and Northern Illinois University. NIU named him the 2014 Distinguished Alum from the the College of Visual and Performing Arts. He, his ensembles, and the Stevenson High School music PLC team have been recognized by numerous organizations including the National Endowment for the Arts, the US Department of Education, the Kennedy Center, the Grammy Foundation, and the Conductors Guild.  His professional performing experience includes being a member of the Chicago Symphony Chorus; timpanist for the Chicago Civic Orchestra, Elgin Symphony, Rockford Symphony, and others; drummer for the University of Michigan Big Band; drummer/vocalist for jazz bands and his own jazz quartet. Since moving to the Phoenix area in 2013, Mr. Chaffee has been an active teacher, performer, and clinician. In addition to his role as conductor of the West Valley Wind Ensemble, he conducts the Surprise Pops Band, and he is Principal Viola in the Sun City Chamber Orchestra. He performs regularly (drummer/vocalist) in several West Valley jazz ensembles including the Sun City Stomperz (classic Dixieland).
Ernie Landes - Trombone Leader
Ernie took up the trombone in high school and began jamming with neighborhood musicians. While attending Stanford University, he heard the bands of Bob Scobey and Turk Murphy, and spent many Friday afternoons playing for free beer in college hangouts.  He helped form a band named "South Bay Seven" which was popular in the San Jose area in the sixties.
In 1973 he was recruited by Frank Goulette to join the "Monterey Bay Classic Jass Band" of Santa Cruz, CA.  With this band he attended most of the West Coast jazz festivals and enjoyed an eight-year run of Sunday afternoon gigs at the Dream Inn in Santa Cruz.
Retiring to Washington State in 1995, Ernie joined the "Dukes of Dabob" which played for twelve years at the Valley Tavern near Dabob Bay. 
Dan Reed - Trumpet
After majoring in music at Indiana University, Dan has devoted his entire career to his trumpet. He has performed as a band member, band leader and featured soloist in a wide variety of situations. At one point, he worked on cruise ships, traveling around the world for 20 years as a performer and music director for Princess Cruises.
He continues to study and teach trumpet, ever seeking to improve his own skills. Dan's mantra is, "You are never too good or too old to learn something new."
Dan is excited to be with the Sun City Stomperz where he is expanding his knowledge of Traditional Jazz. In addition to his fine talent on trumpet and flugelhorn, Dan's enthusiasm and high energy draws fans wherever he goes.
Lloyd Shaffer - Piano
Lloyd began the study of classical piano at the age of six, but when, at 13, he was booked for his first professional dance band gig and he left classical forever. In his two year stint in the army Lloyd played with the 221st Army Band as a military musician, leading a bugle corps and performing on the Transportation Corps' TV show. He worked as a union musician in Pennsylvania, New Jersey and in the Catskill Mountains of New York until moving with his day job in investment management sales to Seattle, Washington. On retiring to Phoenix, he came back to music, playing for a very short time with a punk rock group, and then various dance bands in the Valley, including the Max Pillar Orchestra, the Speakeasy Society Orchestra, the Jack Merlin Band and Cheryl Stevens' Vintage Jazz Band. He has also performed with the Desert City Six, the 52d Street Jazz Band, the Ken Taylor Legacy Band, the Swing Kings and until 2016, with his own 10-piece dance band, "Déjà Vu". Lloyd is married to the talented entertainer Deborah Offenhauser, and leads her backing trio on synthesizer in her "Keyboard and Komedy" shows.
Barry Clapper - Clarinet/Soprano Sax.
Barry started playing sax in high school but interrupted his musical life for military service. He picked it up again in college, playing in several dance bands. In 1969 Barry got involved in barbershop quartet singing. He spent many years singing in competitions all over the Midwest and internationally. In 1983, he was asked to become a Certified International Judge and spent 24 years judging competitions all over the world. Around 2002 Barry was invited to play clarinet and got hooked on our kind of music. He has played with some very good bands including the "Blue Ox Jazz Babies", the "Mouldy Figs" and the "Turkey River All Stars" in and around Minnesota. Barry enjoys playing clarinet, flute, soprano, alto, tenor and baritone saxes . His outstanding vocal capabilities provide an extra kick to the music of the Stomperz.
Chuck Stewart - Tuba
Chuck has been a professional Traditional Jazz (Dixieland) tuba player since 1960 and has played at over 150 major jazz festivals, 18 jazz cruises, and several tours throughout the USA, Canada and South America. He appeared on the Ed Sullivan Show, the Jess Cain Show and the Al Capp Show and in October of 2011 he appeared at Carnegie Hall with "Your Father's Mustache" Band. He can be heard performing on over 18 recordings including Tex Wyndham's Rent Party Revellers, Ray Smith's Paramount Jazz Band, Billy Butterfield, Johnny Mince, Banu Gibson; the Arizona Classic Jazz Band; Banjoist Mike Hashem; and Dick Shooshan's Golden Eagle Jazz Band. He formed his own Crackerjack Jazz Band in 1991 and also took over leadership of the Paramount Jazz Band in 1995. He has been a member of the Arizona Winds Concert Band since 2001 and plays with several polka bands. He played at jazz festivals and on jazz cruises with Bob Schulz Frisco Jazz Band, the Buck Creek Jazz Band, Scott Anthony's Golden Gate Rhythm Machine, the Golden Eagle Jazz Band, Vince Saunder's South Frisco Jazz Band, Burt Barr's Uptown Lowdown Jazz Band, the Happy Feet Jazz Orchestra, the Monte Carlo Jazz Ensemble, the Arizona Classic Jazz Band, 52nd St. Jazz Band, Cheryl's Mardi Gras Jazz Band and the Desert City Six.
Matt Mooney - Banjo
Matt Mooney – orphaned when he was 2 years old, a band of gypsies stole him from the orphanage, dyed his hair red and hid him in a bordello in the lower French Quarter of New Orleans.  Everyday he heard the lively music play on a distant Banjo.  With nothing else to do he learned all the songs by ear.  Last year as Ernie was perusing the lower quarter he heard a banjo being played in the bowels of the bordello.  He was so impress with Matt's Skills he made an offer the gypsies could not refuse and whisked Matt to Sun City to be the Stomperz Banjo Man!
This is what happens when nobody writes the Bio.
Steve Means - Clarinet
Steve began learning clarinet at age nine and added saxophone at 12, He led rock and roll
groups in high school and his first two years in college. In hiatus from college and later, after
continuing college, he worked with a variety of musical groups , whereby he gained and
developed experience and repertoire in popular standards of the 1900's, including Big Band and
Dixieland Jazz, From the latter 1960's to the mid 1970's, he worked generally with three- to
eight-piece groups; most notably with the Paul Moorhead Orchestra, which played various
ballrooms in a several-hundred-mile radius of Omaha, Nebraska.
During his first residency in Phoenix, Arizona, his musical activities involved a variety of work
including with groups in support of Jo Ann Castle, Pat Boone, Glen Campbell, Henny Youngman
and Andrea McArdle; and multiple radio shows with Big Tiny Little. While residing in Flagstaff,
Arizona for six years followed by three years in Las Vegas, Nevada, he continued to play music
periodically. Upon his return to Phoenix in latter 1994, he renewed some prior musical
contacts, formed new ones and continued to practice his avocation (and "first love") of music.
Local Dixieland Jazz groups he has worked with over the years include the Desert City Six,
Doctor Sasparilla's Red Hot Jazz Band and the Sun City Stomperz.
There are many musicians and music fans in Arizona, and elsewhere, who know and appreciate
his instrumental and vocal talents. He unconsciously tends to move when he plays, which once
prompted Jane Russell to refer to Steve as "the Elvis Presley of clarinet."
Videos
Enjoy these selected music videos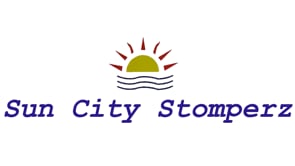 Guest Stars
From time to time we bring in some great talent…These are a recent few!
Contact Us
Use This form for general questions to the band and for booking information request.  If you want to be on our mailing list please scroll up and enter your information there.
Sun City Stomperz, Sun Ciy, Arizona
Booking: For information on availability, bookings and/or CDs,
please contact the Sun City Stomperz Business Manager at 623-972-4292.
Email: info@suncitystomperz.com